Description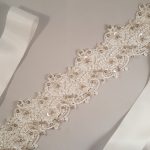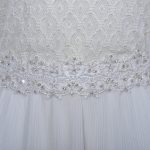 THIS IS A SELF TIE BRIDAL SASH WITH HEAVY LACE APPLIQUE DECORATED WITH SHINY HIGH QUALITY RHINESTONES. GIVES A GLITTERY LOOK TO YOUR BRIDAL DRESS. HAND DECORATED WITH TOP QUALITY CRYSTALS.
RIBBON LENGTH : 9.0′    WIDTH : 1.5″, BEAD WORK LENGTH: 18.0″, WIDTH: 2.0″.
SPECIAL DISCOUNTED PRICE AVAILABLE FOR YOUR PURCHASE OF 4 OR MORE. PLEASE INQUIRE.
PRICE AND QUALITY OF GOODS GUARANTEED !
FREE USPS FIRST CLASS SHIPPING WITHIN USA.
THE REASON WHY YOU SHOULD BUY FROM US:
1. FAST SHIPPING AND DELIVERY BECAUSE WE HAVE ALL THE MERCHANDISE IN STOCK IN NEW YORK.
2. LESS HANDLING TIME (1-3 BUSINESS DAYS).
3. HIGH QUALITY STONES AND RIBBONS USED
4. YOU WILL BE FULLY SATISFIED FOR THE MONEY YOU PAID.